How CPD Empowers and Upskills Staff in Education
What Is CPD? Continual Professional Development in Education
CPD is an acronym for Continual Professional Development, and since 1996, it has also been a leading independent accreditation provider for professionals across all industries. From agriculture to energy, engineering to HR, CPD plays a vital role in supporting and recognising individuals for their skills, knowledge and expertise.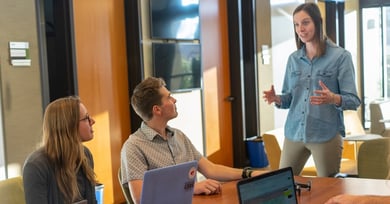 In education, CPD helps teaching assistants (TA), support staff and others to raise school standards through the development of new skills, ultimately helping these individuals to advance their careers and the school environments they work in.
As a provider of accreditations, CPD creates sector-specific courses that are cutting-edge in terms of their content. In education, courses are available for a range of disciplines providing guidance on topics such as:
Courses are delivered independent of CPD by expert bodies and organisations but are accredited by the CPD service. For example, most safeguarding courses are delivered by NSPCC Learning, while others are supplied by King's College London, Safespaces, Metropolitan School of Business and Management and hundreds of other course providers.
To view a full list of education courses and providers, visit CPD in the Education Sector.
How Does CPD Empower and Upskill Staff in Education?
CPD lives up to its name by offering worthwhile avenues for continual professional development. Although CPD accreditations are available across several sectors, one of its most popular industries is education, thanks to its ability to empower and upskill staff, standardising professional academic excellence across the board.
Of course, for all of CPD's employee benefits, they also benefit the employer. As employees become more engaged, invested and in the know, schools, academies, colleges and universities become stronger.
Updating Understanding
CPD qualifications are suitable for all seniority levels and job functions, although they can assist TAs and support staff the most. As CPD works with expert course providers, course content is always cutting-edge, keeping everyone's understanding up-to-date and raising awareness of changes in innovation, expectation and legislation in the sector.
Standardising Academic Excellence
Using CPD as your sole accreditor or rolling out a universal course to all education staff means you can have greater control of academic excellence in your institution. Rolling out a universal course to all staff ensures each team member has the same understanding of an important topic.
However, CPD courses can also identify which staff have superior understanding, helping you as an employer to gauge responsibility levels and pair these with an appropriate pay grade.
Providing Professional Purpose
CPD courses give staff a sense of direction and a clear opportunity to progress in their own career. Employees engaged in course content are more likely to be engaged in work and invested in their role and responsibilities. With CPD accreditations, personal development can always feel actionable and objective.
Gaining Instant Credibility
As a national accreditation available across multiple sectors, CPD is instantly recognised by stakeholders as a credible and trustworthy source of learning. CPD accreditations arm employees with long-lasting professional prowess, as well as add legitimacy to your organisation. Although CPD course content is constantly changing in line with industry trends, its authority is evergreen.
Offering Education Anytime
Unlike traditional academic institutions, CPD and its providers offer flexible, self-paced professional courses that can fit any schedule. Busy work schedules and personal commitments should never come in the way of professional development — and with CPD, they don't have to.
---
Gain 16 CPD Points At The EdTech Summit 2021

Yes, that's right! By attended the EdTech Summit on the 17th – 18th of November at the NEC, Birmingham, you can gain 16 points towards your CPD.
Join the education community for two days of networking, learning and procuring from the most influential figures across education!
This year our agenda has a specific focus on EdTech's Post-Lockdown Opportunities, Cybersecurity, Digital Security and much more!
You and your colleagues can attend the show for free by simply clicking this link. See you there!