This post has been taken from PlatformEd. It's totally free to sign up where you can access videos, conversations, articles and resources from colleagues in the Schools Sector - With daily posts and regular free virtual events for members, it's quick and easy to create an account and start connecting with professionals up and down the UK.
Preparing for an Endemic: The New Normal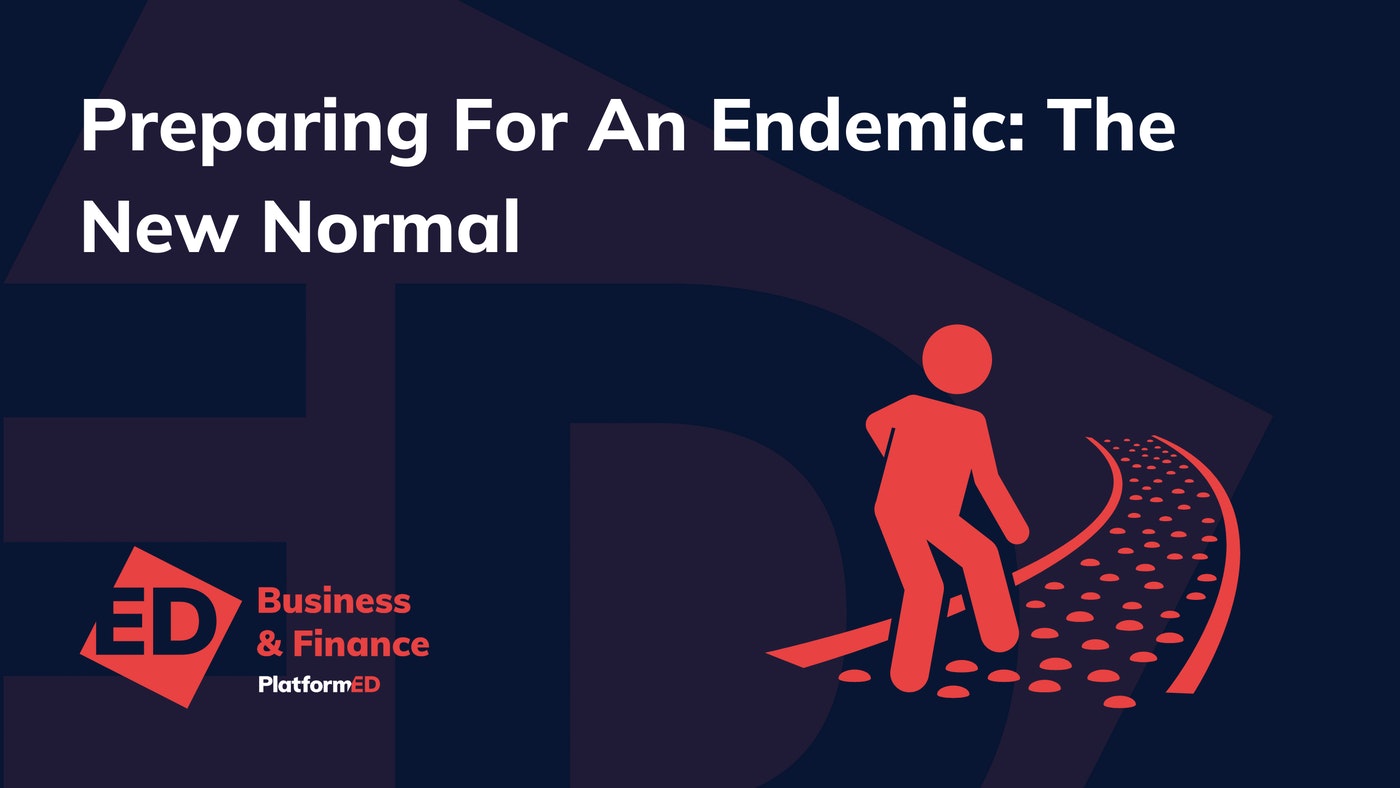 Having lived with Covid for the past 2 years it might feel odd to 'prepare' for it. Certainly also because other than in the case of hospitals and care homes, schools have borne the brunt of the pandemic. So when we say that schools now find themselves preparing for covid, what we mean is that schools are evolving their practice and policies. We are all learning to 'live with the virus'.
Shifting from Pandemic to Endemic:
There are lots of new terms that have entered our diction over the past few years, from PPE to Doom scrolling. Pandemic, epidemic and endemic are three that we'd all happily say goodbye to but sadly they are here to stay with a special emphasis on 'endemic'.
The BBC's Health and science correspondent, James Gallagher, has quite a handy visual depiction of what each term means in his article from earlier in the year. For the sake of this short post, however, we can understand endemic to be where the 'Levels (of the disease) are consistent and predictable.'
What is coming to an End?
Firstly, the legal requirements around Covid-19 have ended but the advice is still very much to stay at home for those with symptoms/positive confirmation of Covid-19. Helping to navigate this legal knot is Stone King's James Barratt who has published some very helpful guidance with useful considerations for schools.
The second curtain close is for free Covid testing which, despite concern from unions and school leaders alike, is also coming into effect for special schools. There is sustained pressure on the DfE to maintain testing to avoid further disruption, especially during crucial exam periods. And with a commitment to keep a testing infrastructure for potential future new variants, schools could see some backpedaling on this policy direction.
Covid Keepers - Ventilation
One of the government's tactics in keeping infection rates down has been to rapidly onboard a culture of ventilation across schools. Indeed, our understanding of the role which ventilation can play on public health has shifted for the better.
Across the pond, a group of prominent scientists have published a national roadmap for living with covid, which dedicates a whole chapter to ventilation. In it, they champion cleaner indoor air, not only a good thing for the prevention of covid but other respiratory diseases and chronic conditions such as asthma.
Digital Delivery and Flexible Working
Virtual learning was a great understudy for in-class learning but it's no replacement. With a continuation in staff shortages to the extent that some schools are still having to close, with instances of closure due to staff absences this week from Essex to Ayrshire. Keeping some hybrid/remote options available for schools, in the medium term at least will be useful in dealing with future shocks and more localized epidemics should dangerous variants arise.
From classrooms to the back office, cloud-based and remote working is the norm with even the most ardent of technophobes having embraced the benefits of virtual. This has, in turn, intensified movements towards flexible working for both teachers and support staff. Moreover, for many schools, it has unlocked the benefits which may have been previously unavailable owing to pre-covid IT infrastructures.

PlatformED is an open group for anyone who is interested in subjects relating to school business management; from policy changes in funding and estates to best practice in procurement, payroll, budgeting and auditing.