We all have a responsibility to protect our planet and minimise the impact we have on the environment. At RISO we take this very seriously and have gone one stage further than our competitors to develop an earth conscious way to create eco-friendly printing.
At RISO, ecology and productivity go hand-in-hand
For the last 25 years' our reputation in the UK has gone from 'strength-to-strength' and we are now the largest print supplier to the education sector in the UK. Founded in Tokyo, Japan in 1946, we have been providing innovative digital print solutions ever since and now supply 190 countries and regions.
Designing eco-friendly printing is in our DNA and innovation is at the heart of everything we do. We have heavily invested into research and development, to ensure we remain at the forefront of technology within our industry and are totally committed to helping shape a greener earth. Each and every printer is lovingly built with attention to detail, with every device strengthening our enviable reputation for quality.
We have vast and extensive knowledge of the printing industry and are also an ink and consumables manufacturer, making us uniquely positioned to fulfil all your printing needs under one roof. Our printers are available in many sizes and formats; from small office printers to massive sheet-fed production printers, ideal for commercial use.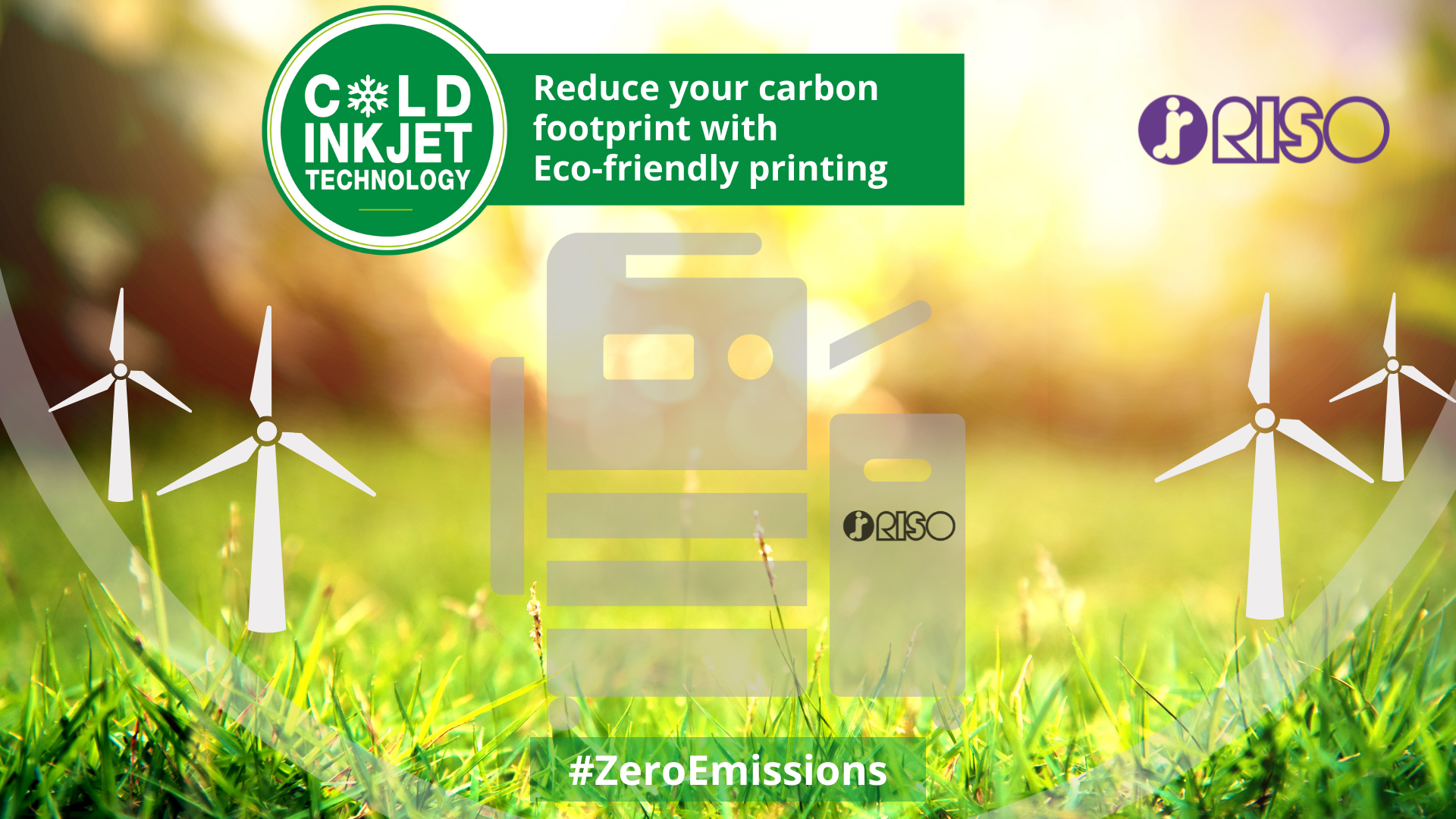 Why choose RISO for eco-friendly printing?
Our pioneering, unique ForceJetTM inkjet technology has an environmental advantage which, when combined with superior productivity, delivers a more productive, resource-efficient and sustainable way of printing, that ultimately benefits our planet.
Specifically, our eco-friendly printing:
Saves energy: Our unique cold inkjet technology means that no heat is used in the print-imaging stage, resulting in less electricity being needed. RISO's energy efficient printers boast often less than 360w power consumption which is vastly superior to other printers. Testing and comparisons have revealed that RISO inkjet printers will typically achieve power savings of over 80% during use resulting in considerable cost savings.
Zero emissions: Our inkjet printers employ a process that eliminates ozone, toner and other emissions making them kinder to the environment and the workplace. Due to RISO printer's emitting zero emissions it makes our products much safer and cleaner when operating in any department of your organisation.
Quieter Working. RISO printer when in full use have typically produced a recorded noise level of 62dB, about the level of a normal conversation, this has proved well below that of many of our competitors.
Extended durability: Our printers have considerably fewer parts that need frequent replacement or maintaining, reducing overall maintenance requirements and costs. With far less components to regularly replace the RISO printer helps reduce transportation, material waste and packaging which helps decrease the strain on the environment.
Increased productivity/reduced consumption: Due to their cold print process, not only do our printers consume less energy but will use less energy for less time due do to the very high print speeds achieved.
Additional energy saving functions: The printers can be programmed to automatically switch on and off at certain times and will automatically enter sleep mode after the last print job. This enables you to keep the overall power consumption even lower and you never have to worry about having to remember to turn the printer off at the end of the day or the weekends.
Natural resource conservation: Our printers offer the ability to print a wide range of uncoated stocks, including recycled brands, while also having the ability to eliminate blank sides through duplex printing. This all helps towards reducing the number of trees used in paper production.
In summary:
We are the largest print supplier in the education sector in the UK
We have the lowest colour click rate in the UK
We are the only provider of inkjet printers that run on unique cold inkjet meaning zero emissions and lower energy bills
We make colour printing greener and more affordable for schools
We have a fleet of demonstrations vans around the UK and can drive to any school location, park up on your premises and provide a demonstration of our unique products, saving your business manager time.
Riso's continued commitment to a greener planet and Eco-friendly printing
Although UK greenhouse gas emissions are falling there is still a long way to go. RISO are totally committed to the continued development of sustainable and environmentally friendly print solutions and our ongoing promise of significant investment in R & D will continue to grow. We also have exciting plans to launch a brand new green initiative where we will be planting a tree for each new customer that buys or leases one of our printers. As a company we are proud to comply with many of the world's leading environmental directives.
Read more about how we are committing to a greener Earth: https://www.riso.co.uk/environment.html
This short video explains the benefits of using our cutting-edge print technology RISO Education Showcase Video - YouTube
Come and meet the team at RISO
We will be exhibiting at the Schools and Academies Show at Birmingham NEC on 17 and 18 November and would love to meet you.
You will find us in Exhibition Hall 1, Stand B10. We will have a demonstration machine available to allow you to see how eco-friendly printing can help your school….and we will also be giving away lots of freebies.
To make an appointment at our virtual booth please click here: https://connected.eventnetworking.com/company/1755813
To arrange a call back or an on-site demo. email: info@riso.co.uk or call 020 8236 5800
A copy our education brochure can be downloaded here: https://www.riso.co.uk/pdf/RISO_education_brochure.pdf