Re-Post from our Online Community, PlatformEd
School Costs & Funding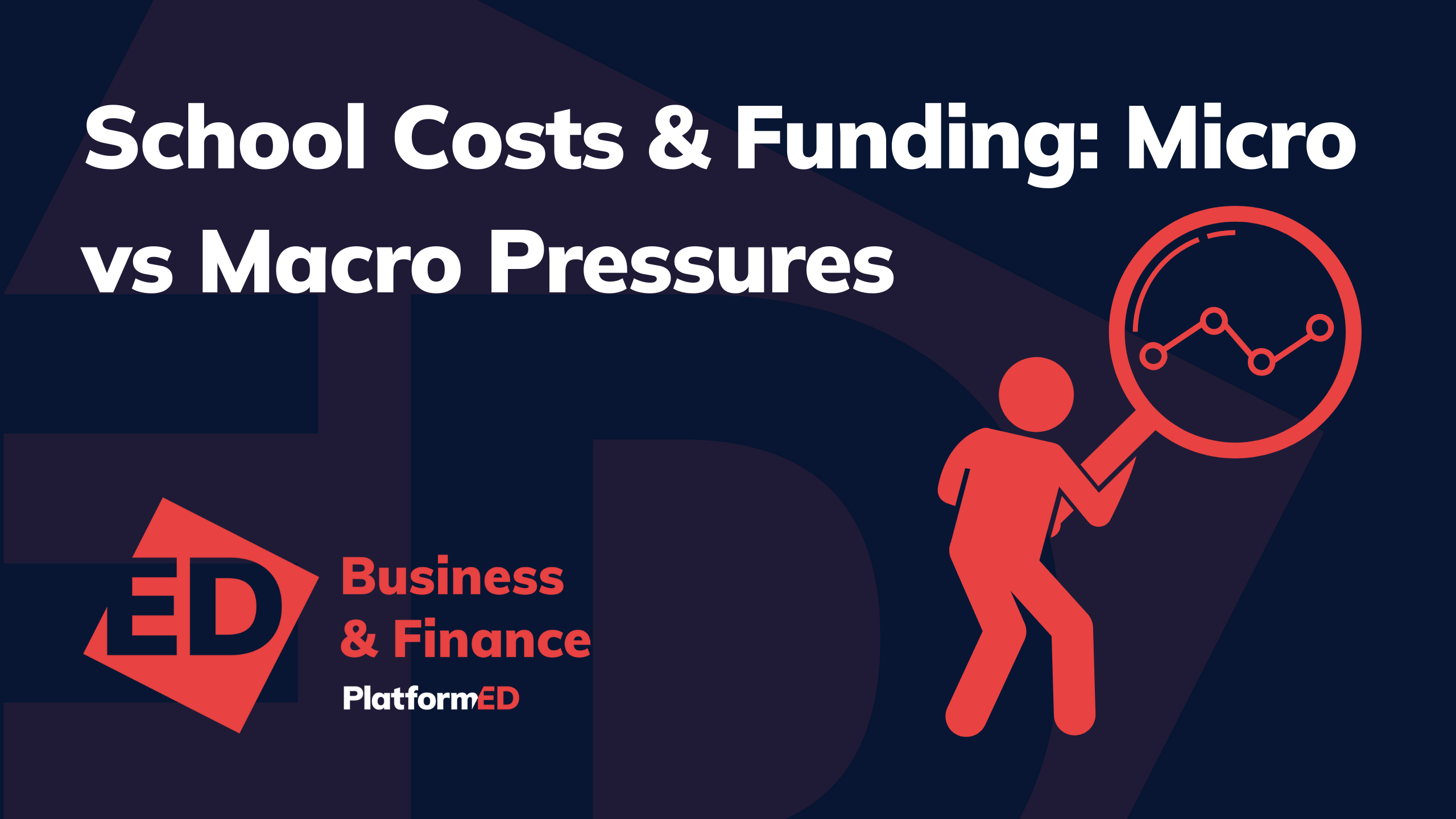 Last week we saw the release of two papers that have helped us to paint a better national picture of School Funding and Spending Challenges, both historic and expected. In this article, we give you a quick TL;DR (too long; didn't read) of each report as well as some useful links to commentary.
The first of these documents is the Schools Costs Technical Notes, which is designed to help leadership contextualize cost increases to schools at the national level. With a crystalline underscoring of its methodologies, sources, and limitations, one of the most important take-aways from the 22-page analysis, is the emphasis on the 'front-loading' of funding that schools and trusts should expect.
Schools are being given some headroom, over £2.1 billion worth of headroom for 2022-23 and a further £700 Million for 2023-24 to be precise. What's behind the increase?
Expected Net-Pressures which the analysis divides into three not so tidy but useful categories: Demographic Pressures, Cost Pressures, and Teaching/Non-Teaching Staff + Non-Staff Related Cost Pressures. The notes go on to lay out the national scale of these pressures and how this guides the department's approach to funding.
The notes also affirm that staff pay represents the biggest cost pressure for most schools and that this analysis of costs represents a national average, not the situation for all schools. Adding that "All schools need to understand and plan for their own situation." To this end, and in addition to some useful frames of reference to its calculations, the document's Annexe (pages 20-21) offered a useful list of DfE and ESFA services, programmes, tools and support structures that are designed to help schools and trusts better address their individual challenges.
Beyond this, the notes were not curated to address any analysis into the specific financial, demographic or staffing pressures in which schools find themselves. To give prominence to this piece of the finance puzzle, and released a mere two days after the notes, the House of Commons Committee of Public Accounts published a paper titled 'Financial Sustainability of Schools in England'.
What the Technical Notes abbreviated in its analysis of cost pressures was exactly what the Public Accounts paper sought to amplify, and that was the uneven distribution of cost pressures on schools. According to the conclusions and recommendations of the paper, 11% of maintained schools find themselves in deficit and there is a distinct geographical trend in the distributions of these schools.
In addition to a data gap around the causes of this variability in school finances, the paper also calls to attention the risk to education outcomes posed by disproportionate cost pressure on heads. Whilst many schools will welcome a surplus in funds, others won't find themselves in similar circumstances. Difficult decisions will need to be taken, whether this means cutting teaching assistants or narrowing the curriculum offer. This is a grave concern for MPs and school leaders alike.
In addition to raising concerns on the impact on students, especially students at schools in deprived areas, the paper also raises the question of accountability concerning the money being held in reserves. With a lack of sufficient evidence as to the purpose of many reservoirs, there is a palpable concern that public funds are being inappropriately withheld.
Whereas the technical notes afford the reader a useful telescope with which to assess current and predicted cost pressures, the Committee of Public Accounts paper instead holds the microscope to system inequalities. Inequalities that require targeted mechanisms, a local understanding and contextual support as opposed to blanket analysis.
For more information, check out commentary and articles below:
Schools Week Article on Technical Notes by Freddie Whittaker

PlatformED is an open group for anyone who is interested in subjects relating to school business management; from policy changes in funding and estates to best practice in procurement, payroll, budgeting and auditing.