Today's generation of children are being brought up on understanding the effects of climate change and how it could affect their own futures, meaning they are particularly engaged in it – perhaps more so than their parent and teacher generation, who have often thus far been less receptive to recycling.
The more we do to reduce the amount of waste that gets sent to landfill the better, particularly if it also affects our oceans and their inhabitants – another factor of which children are already very much aware and is high on the climate change agenda.
Swedish activist Greta Thunberg is just 18 years old and has been campaigning and raising awareness of climate change and its effects since she was 15. She spent several days outside Swedish parliament calling for stronger action on the subject and several other pupils organised a school climate strike movement on the back of her protests.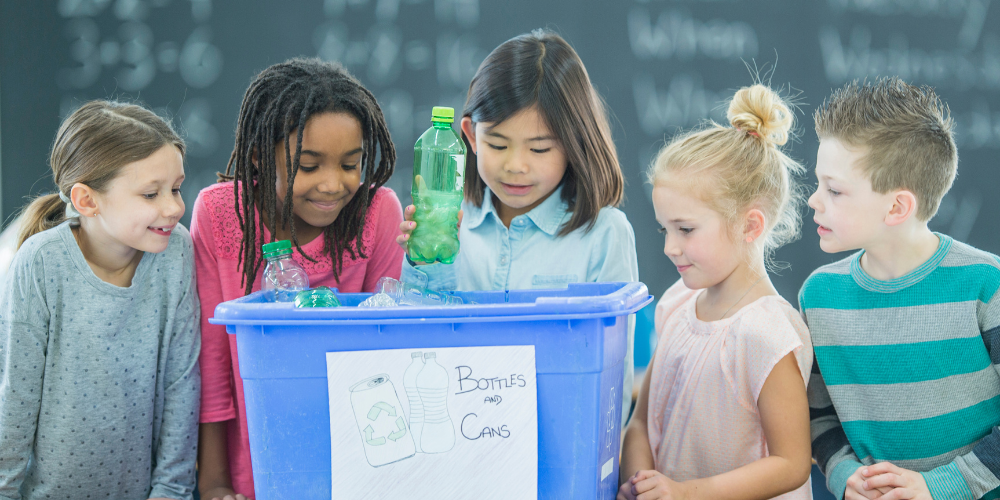 What can Schools Do to Foster a Sense of Responsibility?
The Eco-Schools Initiative, run by the Foundation for Environmental Education, delivers education programmes in schools in 68 countries, with 52,000 schools having been involved since it was set up in 1994. This global environmental consciousness syllabus has taught 19 million pupils and 1.4 million teachers so far, and this figure is growing year-on-year as people take more responsibility for their day-to-day actions.
Several schools have developed tree-planting enterprises, and The Woodland Trust offers free packs of saplings and accompanying educational resources, handy tips and tree-care advice for any establishments that sign up.
Children should be taught to switch off lights and plug sockets when they are not in use, use water sparingly and make sure the taps are always fully turned off after using the bathroom. Teachers can lead by example in these actions, and also with things like picking up litter when they see it – regardless of to whom it belongs. This shared responsibility automatically makes people think more about their actions and how it affects others.
How can Schools include Environmental Issues in the Curriculum?
We all know the 3 Rs of Reading, wRiting and 'Rithmetic, but schools should now be looking to introduce a different 3 Rs – Reduce waste, Reuse resources and Recycle materials.
One of the easiest and most obvious, ways of helping with climate change is recycling. Most, if not all, domestic properties in the UK will have a wheelie bin for recyclable materials, which can range from paper and plastic to aluminium cans. These are simply separated when throwing away household rubbish and then collected by the refuse disposal operatives on a weekly or fortnightly basis.
Start children young, and take the effort away – make it a fun task of matching items to the relevant colour bin, or give them the responsibility of collecting paper or plastic for recycling to make them feel grown-up. Setting up recycling stations around the school, in areas such as classrooms and canteens, and teaching children what goes where means it will then become second nature.
Most learning begins at home, and having parents who will talk to their children about recycling – discussing where it gets taken to by the bin lorries, why are the bins different colours, and what happens to the recycled materials – will give them a good basis for further discussion in the classroom. And, they may teach their teacher a thing or two while they are at it. And who didn't love doing that as a child?!
Most household waste is dry mixed recyclables, which is both mechanically and manually separated at a recycling plant. This means that zero waste is sent to landfill and experts make sure it is all sent on to the relevant places to be recycled. Taking children on a school trip to a recycling plant where they can see these processes in action is a good way to keep them engaged, and they are bound to ask further questions of the workers, which can educate both them and their teachers.
Craft activities have always used cardboard tubes and old washing up liquid bottles. And this is another area where teachers can be guided by their pupils in art lessons and kindergarten fun. The possibilities are endless, and there is a wealth of ideas for teachers online. Or, it is a great homework task to set pupils who can then talk in class about the objects they have recycled for their project.
How Does the Surrounding Community Benefit?
Something that is of particular concern to children and may directly affect them going forward is the use of natural resources – a subject which can be actively studied in geography lessons. These are not infinite and are being used up at an alarming rate. By recycling materials like paper, plastic, metals and glass we are halting the decline.
We are also protecting ecosystems and wildlife and ensuring seas aren't polluted by waste – most children love animals and are becoming more and more naturally aware of what needs to be done to keep them safe.
In addition, saving energy and reducing carbon emissions is another by-product, and practising at home with friends and family what children have learned at school can increase awareness and culpability among others in the community.
Greta Thunberg started her campaign by encouraging her own parents to be more aware of their carbon footprint, and many children are now following in her footsteps with the adults in their lives, be it parents, carers or teachers.
Final Thoughts
It is in everyone's interests to take notice of what is going on in the world around them and doing their best to reduce their carbon footprint to help save the planet. It is also a subject that is of interest to pupils as they can see the direct effects it has, and have their own youth role model, so exploring it in the classroom and including discussions on - and practical demonstrations of - environmental issues in the curriculum should be an easy win for teachers.
About The Author:
Kate Sheppard is a mum of two, living in Sussex. Kate enjoys writing about the ups and the downs of parenting and isn't afraid to tell it how it is. She's passionate about all things families, the countryside, children's education, and women's rights. https://twitter.com/KateSheppard90